An Insight into Nicole Frain's Melbourne to Warrnambool Race to the Podium!
Image Above (Header): The podium finishers at the 2021 Melbourne to Warrnambool (L to R) Justine Barrow, Matilda Raynolds and Nicole Frain
Source: Con Chronis/AusCycling
I decided to sign up for the Melbourne-Warnambool after I had serious FOMO when the initial race came around earlier in the year and I wasn't involved. If COVID has done anything right, it's that the event was postponed and allowed me a chance to sign up.
I didn't know much about the race if I am honest. Just that everyone starts together, the men the women and all the various grades, it goes from Melbourne Avalon Airport to Warnambool and it will have been my longest ride ever by the time I race it. I checked out the previous years races a bit, you could see from the time differences of even the men's finishers when there were unfavorable headwind conditions. I was looking at something between 6-8hrs in the saddle, conditions, and whether I could hang on, depending.
I was excited. And I spoke to my coach and a few other people for race advice on how to approach this one-day event. Was it even realistic to think I could try and hang onto the NRS men? Previous women had done so, but it's the length of the course that can unravel even the strongest of racers.
I was told to prepare myself to suffer the first 50kms, at the very least. That advice was consistent. Along with this I was also reminded to fuel, fuel and fuel some more. If ever there was a race to carb load for, it was this one. That part was easy.
Then there is thinking about the logistics of the race and feeding throughout. I was lucky enough to have Kerry Gigante in the feed zone for me at this race. If anyone knows how to look after you on race day it's Sarah's mum. We opted for feed bags at each station. Just water/mix, incase I missed one I didn't want to have to stress about missing food too. Then we aimed for 60-80g of carbs per hr. But let's factor in 8hrs of food, just in-case.
Race day came around. They have moved the start an hr later, which I appreciate for the daylight. Its crisp, but the day is scheduled to be warm, mid-low 20's. I am always surprised how quickly the start time rolls around when you turn up just over an hr early. But with getting changed, pinning numbers, filling pockets and about 10 toilet stops the time soon disappears and we are lined up and rolling out. I think one of my biggest fears for the day was 'what if I need the toilet?'. It's not as easy for women.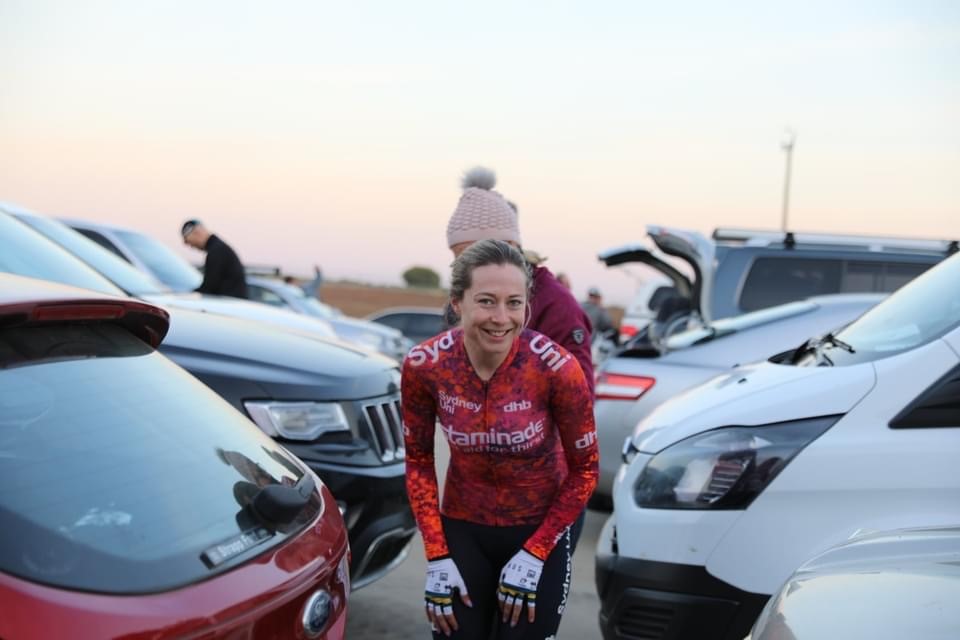 I don't remember too much of the first 20ish kms it's just wide-open highway and I work on keeping myself in a good position and gaining confidence moving through this bunch of men. A few people ask me why I still have my saddle bag on. I am concerned about getting dropped and getting a flat, is my response.
I have my stem notes written and we are fast approaching the first climb. None of the climbs in the warnie are particularly brutal on paper. But trying to race up them with a peloton of men, well everything can become painful in an instant. My aim for the first climbs was all about position, position at the front and if you drift back you will just drift through the moving peloton. If you are already at the back, if you can't keep pace you will only drift backwards and open a gap. A gap I found out later in the day is exceptionally difficult to get back. I positioned into all these climbs well, top 20ish wheels. I probably annoyed some of the boys around me, forced to go around and change their lines but it kept me in the pack, and that was my goal. I had to look after myself.
The first feed came. I knew Kerry would be towards the end of the feed zone area, we had spoken about it and I had given her my Sydney UNI vest to be easy to spot. But there were people everywhere, which makes sense, it's a peloton of about 150 people now. I spotted Kerry, but I was coming in too fast. I missed. Damn it I thought, probably even said it (or words to that effect). I pushed on to stay in the bunch. I wasn't the only one that day to miss feeds. I saw some people miss, some people drop, some people drop their bags in the peloton as they tried to unpack them. You don't want to miss the opportunity to fuel on a race like this, its too long a day and its not now it will hurt you, it's when you 200km deep. Thankfully, some guys also got too many bidons and gladly passed them on, saving them from carrying extras in their pockets.
At 100km in, there was a climb I had written on my notes. That one hurt. It was fast, and I felt myself drifting back through the bunch quickly. "Why didn't anyone give me a push?" I thought. I would have welcomed it. But they were too busy getting themselves over the climb as well. All too quickly I felt the last rider of the strung-out peloton pass me. That was the end of the pack, and we weren't over the top yet, and I didn't have the legs to stay connected. I was now solo out the back. I looked behind me and I could see other riders. They were my opportunity; I couldn't miss them, or I would be dropped for good. I got onto the wheel as they came past, but now we had crested the hill and were heading downhill. I honestly don't know what hurt more, going uphill, or trying to produce the power to stay on the wheel down the hill and make connection again. We made contact, and I breathed a sigh of relief. I moved my way into the depth of the peloton for maximum sit and recovery. I was safe now, until 200kms in.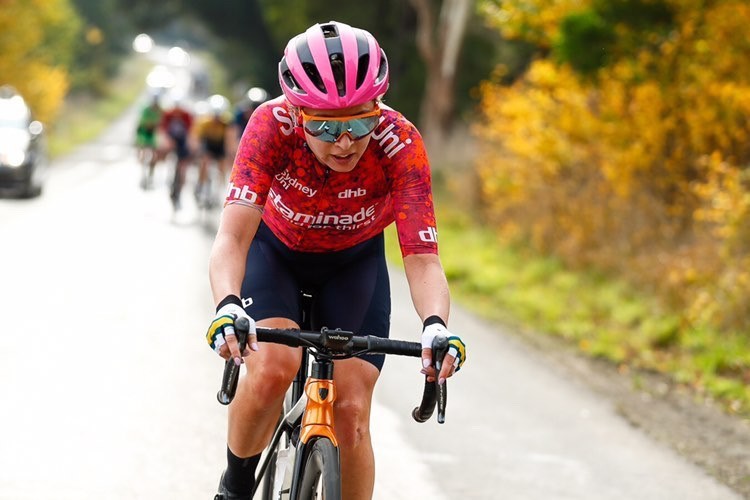 Image Above: Nicole Frain enroute to third at the 2021 women's Melbourne to Warrnambool.
Source: Con Chronis/AusCycling

At 200km in, there were two things I was nervous for. A short 700m climb before the final KOM of about 4kms. While not steep, the length and kms in the legs are what would make the KOM so tough, as well as the fact that there was still a mens race going on around me and the dynamics of it was that there was a small break, but it was mostly unrepresented by the major teams; Bridgelane, Olivers etc. and so they would want to bring this back, by lighting it up on this climb.
I don't want to say I have succumbed to my fate before this climb, but knowing how the other climbs had gone before, the length of this one and kms now in the legs, I had an idea what to expect this time. I told myself that my goal this time would be position, and to not try so hard to stick to the boys that I blow myself up. I didn't position as well into this climb as the others. We just came into it a bit too fast and the 700m climb before hand was burning my legs. But I was ahead of the other girls. I always knew where they were throughout the day.
The boys completely tore up the climb as expected, except I didn't quite hang on to the next distanced group as I had hoped. I was with the familiar guys I was with at 100kms, I felt safe in my chances of making contact, but we needed to work hard. I urged them on, one being fellow Tasmanian Luke Atkinson, I hoped him knowing my presence might urge him on to help me. We went through the third feed, but I was so deep in the hurt box of getting back on I didn't even try for bottles this time.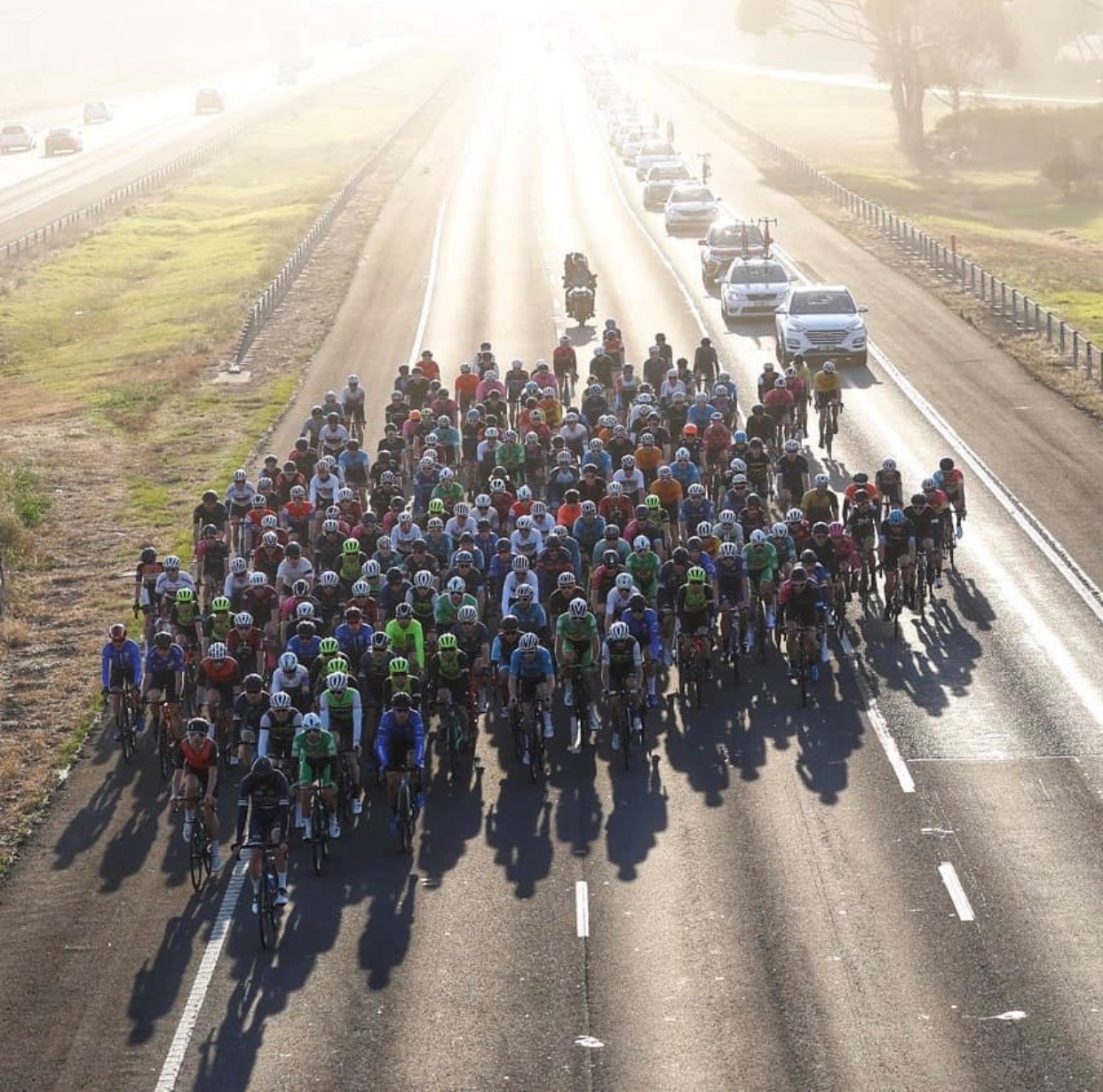 We made contact. We were now on the Great Ocean Road, the exposed part and we had cross headwinds. I was with the other remaining women, Justine Barrows and Matilda Raylonds, we were the only ones standing in the front group since 40kms in. I would like to be able to say that the last 60km were easy on the final countdown home, but they were the hardest. With a reduced bunch we had more exposure to the wind, and now the goal of hanging on wasn't quite there to occupy you. Now you had to start thinking about the finish and just counting down the kms.
I didn't know the finish, I had heard it's a bit of an uphill drag. I played my scenario of the finish in my head countless times. Probably once every km. So, when it came to the finish, I am still unsure why I didn't follow through with my own thought out plan and allowed myself to be distracted by other things in the small pelo.
It's a funny finish, in our group of 30 which finished 15minutes down from the men, we have 3 women, racing for 1-3rd which has prize money to it too. We also have men coming in for 100th place. And like any good dropped bunch, there is going to be some sprinting for the minor placings. What makes that tough is that some people will still sprint like its for 1st, while others will try, decide that after 270kms sprinting is a silly idea, and sit back down. But picking who will do this is near impossible, until you are on their wheel and find out. Unfortunately, I made a poor decision in my finish and I wasn't in the right spot. On-top of that though, it is really-hard to try and sprint after that distance, and I didn't play that scenario over in my head over the last 60km.
So I finished the Melbourne to Warnambool in 3rd place and I am happy with that. My longest ever ride, and a record women's time of 6hrs20min averaging about 42kmhr is no easy effort. Anyone that finished the Warnambool should be proud of themselves, it's the stories from the day that make it great.
Nicole chose Pirelli P Zero RACE TLR SL tyres for her 267km M2W race. Speed was an obvious factor in her choice, but the addition of Pirelli's SmartEvo Compound and TechWall Technology gave her the confidence of puncture protection where getting dropped due to a flat or mechanical just wasn't an option!
Image Above: The podium finishers at the 2021 Melbourne to Warrnambool (L to R) Justine Barrow, Matilda Raynolds and Nicole Frain
Source: Con Chronis/AusCycling